Hi Friends! Happy Friday to you! I'm linking up with
Doodle Bugs Teaching
for a Five for Friday Linky! Here's five random (and I mean random, folks) things that went on this week!
1. Mother's Day was fabulous as always. We went to visit my second mom (Brian's mom). What a fun weekend! Since we planned to visit during Mother's Day weekend, Brian and the boys let me have my own Mother's Day the weekend before. Of course, I did a little shopping at my favorite stores and we topped it all off by going out to dinner. My youngest a little preoccupied with eating ketchup to jump in the picture! :)
2. During Work on Writing, one of my sweeties decided to write me a letter. It made my day! My favorite part is "I know you have been having tough times with us"…Hilarious!
3. We are wrapping up our money unit! It's one of my favorite math concepts to teach. I am compiling a list of activities that we have done and I'm in the process of creating a unit. It should be up in our TpT store soon! Be sure to check it out.
4. I'm kind of embarrassed to say that I am not a big water drinker, but I think that's about to change. I have been drinking a lot of it this week…..thanks to my new water bottle! I love this thing. The entire top part of the bottle comes off so you can add ice or a slice of fruit if you will. And it's pink too! So convenient! I picked it up at Wal-Mart. Please don't tell anybody that I am this excited about a water bottle. :)
The Leader in Me
by Stephen R. Covey.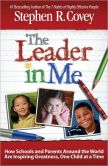 We did a "jigsaw" (everyone pick a chapter to read and tell the group about). Even though I haven't read the entire book yet, the one chapter that I did read made me reflect on my life and my teaching. It's an easy read and I highly recommend it. Is anyone reading this book or using it at your school? I would love to hear your thoughts.
Enjoy your weekend.
18 days and counting down,
~Mrs. Holland